Featured Author: Lois Lowry


Lois Lowry is a witty, clever, interesting woman with many facets to her life. She's a great conversationalist, a knitter, an avid and eclectic reader and movie-goer, and besides that, she likes to play bridge and to garden. She's an excellent cook and her cookbook collection is enormous and varied. Her home is full of bookshelves which, of course, are full of books and, since she has a great need for order, her books are carefully arranged with her own rather eccentric system with no apologies to Dewey.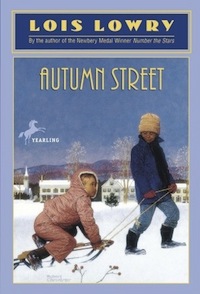 As a child whose father was in the military, she moved around a lot and spent the years of World War II with her mother's parents in central Pennsylvania before joining her father in post-war Japan. You can find out more about that house and town in Pennsylvania because she used it as the setting for Autumn Street (see below).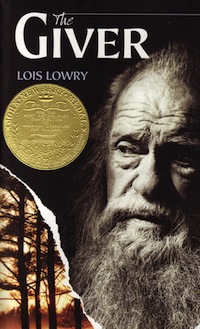 Lowry is an accomplished photographer (the cover of The Giver--see below--is her own work) with an artist's eye for composition. She sometimes compares the role of writer to that of photographer, saying that the writer carefully chooses the best lens and settings for her work, deciding which things to focus on and which to blur.
Most mornings you'll find Lois seated at her computer and at work by eight o'clock. A brief lunch break and she's back at it again at least until mid-afternoon. She writes novels, short stories and picture books, mostly for young people, but she also writes because it's so much a part of her that she turns to it constantly, both professionally and personally. When her son, an Air Force pilot, was killed when his plane crashed on takeoff she put together a book about him with photographs and a brief text for his two-year-old daughter so that she would remember what her father was like.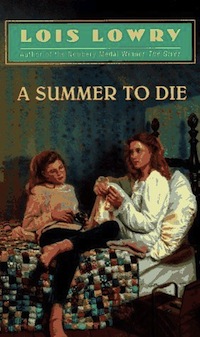 A look at Lowry's prolific work as a writer is an occasion for amazement. It's so varied and always so good. Her first book, A Summer to Die (see below), centers around the death of a young girl as witnessed by her younger sister, Meg. Although the book is not totally based on fact, Lowry's own sister, Helen, died young of cancer and she used the memories of that tragic time in the story. Lowry calls that her most personal book even though, of course, it addresses the universal theme of life and death.

Lowry turned to a friend's memories in the writing of her Newbery Award winning Number the Stars (see below). Annemarie Johansen is based on Lowry's real-life friend Annelise. She used the role played by Annelise and her family during the occupation of Denmark to bring some awareness of the Holocaust to a slightly younger-than-usual audience.
The Giver (see below) and the three other titles in "The Giver Quartet" series are her most ambitious works to date. The Giver earned her another Newbery Award and her acceptance speech tells of the many rivers of experience and inspiration that led her to write it. One of those rivers of inspiration came from her father who was, at that time, in a nursing home having lost most of his long-term memory. She realized one day while visiting her father that, without memory, there is no pain, and she began to imagine a society in which the past was deliberately forgotten.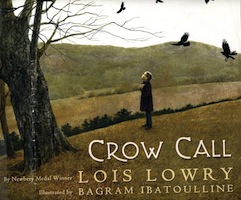 In her picture book Crow Call (see below) Lowry again drew on memories of her father to create a sensitive vignette of their hunt to kill crop-eating crows.
Lowry has said that each reader reads his or her own book and that is certainly shown in the varied reactions to The Giver. It is one of the most frequently censored books in the United States today. Ironically, it is attacked for being too Christian, for not being Christian enough, for being "new age" and for being too spiritual. It is criticized for being un-American and for stressing too many American middle class values, for being too pessimistic and not pessimistic enough. Saner folks seem to recognize it as a skillful and fascinating work of fiction, which challenges the reader to reexamine his or her own values and the directions current societies seem to be taking.
Recurrent themes for Lois Lowry seem to be saying goodbye, the importance of making connections with others, and finding a place where we belong. Her work is wide-ranging, richly varied and right on target for her intended audiences.

Some of Our Favorite Books by Lois Lowry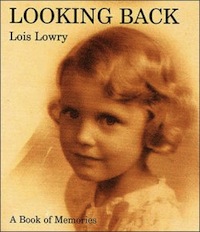 Grades 4 - 9
Looking Back: A Book of Memories by Lois Lowry. Memoir. 181 pages.
Find this book: Local Bookstore, Amazon
, B&N


This is so much more than an autobiography. It's not a typical memoir either. Lois Lowry's great-aunt and her father shared Lois's love for photography so she has a large collection of very good photographs of her family over several generations. She has taken from that collection a series of photographs that she uses to recall events and people from her past. Her evocative prose, together with those photographs, present a family with laughter, love and grief piling up on each other.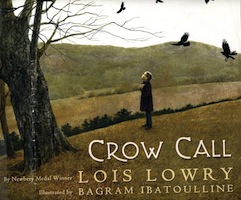 Grades K - 2
Crow Call by Lois Lowry. Picture Book. 32 pages.
Find this book: Local Bookstore, Amazon
, B&N


Lizzie and her father are reunited when he returns from World War II, but she has few memories of him and there is much he doesn't know about her. Together they go out so that she can use the crow call to draw the crows and her father can shoot the crop-eating pests. The gathering of crows and the father and daughter's feelings about killing them bring the two together. Beautifully written and illustrated.


Grades 4 - 8
Number the Stars by Lois Lowry. Novel. 144 pages.
Find this book: Local Bookstore, Amazon
, B&N


In Denmark, Annie Marie Johannsen and her family become involved in helping Ellen Rosen and her family escape the Nazis. The task involves great risk for both families. The solution seems to lie in pretending that Ellen is a member of the Johansen family in order to fool the Nazis. The courage of the Rosen family and their fellow Jews is shared by those of the Johannsen family and friends. Winner of the Newbery Award. Read More in our Featured Book Teachers Guide with discussion questions, extension activities, related books and links.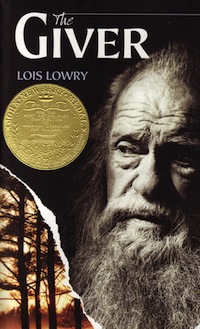 Grades 6 - 9
The Giver by Lois Lowry. Novel. 179 pages.
Find this book: Local Bookstore, Amazon
, B&N


This is a fascinating novel, a combination of fantasy and science fiction in which a seemingly Utopian society is shown to be a cruel and unforgiving civilization. Jonas has reached the age of career assignments in this carefully regulated society and is chosen to be the recipient of the memories which he gets from The Giver in a series of intense and physical transferences. As the memories accumulate, he and we become aware of all that the society has relinquished and Jonas must decide whether or not to stay. Winner of the Newbery Award. Read More.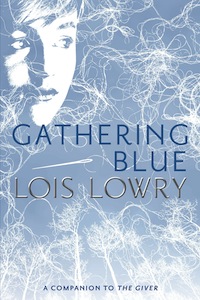 Grades 4 - 9
Gathering Blue by Lois Lowry. Novel. 256 pages.
Find this book: Local Bookstore, Amazon
, B&N


This is the second book in "The Giver Quartet." Again in Gathering Blue the society Lowry creates is quite possibly a future one, but most of these people live a savage and brutal life after a great cataclysmic event. They have made their terrible choices of what things to value. Weakness and physical differences are not allowed and Kira, is disabled and orphaned. She would have met the fate of other deformed humans but for a special gift.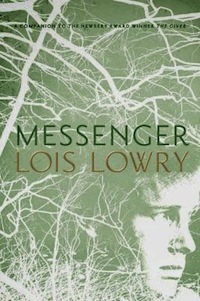 Grades 4 - 9
Messenger by Lois Lowry. Novel. 192 pages.
Find this book: Local Bookstore, Amazon
, B&N


This is the third book in the "The Giver Quartet." Matty and his blind guardian, Seer, live in the Village which has been a place of refuge for the poor and disabled. Now, however, something evil is influencing the Village and people no longer welcome newcomers. Matty must journey through the forest, which is also becoming more sinister, to bring back Seer's daughter, Kira, before the borders are closed.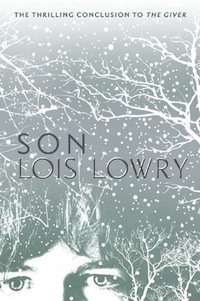 Grades 6 - 9
Son by Lois Lowry. Novel. 400 pages.
Find this book: Local Bookstore, Amazon
, B&N


The last book of "The Giver Quartet" brings the characters from the first three books together again. Son starts in the same dystopian town and time as The Giver, but now we see things through the eyes of Claire, one of the Birthmothers. She begins her own journey of escape and decades later reunites with her son Gabe and Jonas from The Giver.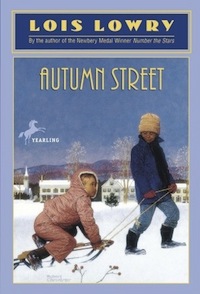 Grades 4 - 8
Autumn Street by Lois Lowry. Novel. 188 pages.
Find this book: Local Bookstore, Amazon
, B&N


Elizabeth has come with her sister and pregnant mother to live with her grandparents in Philadelphia while her father is serving in World War II. The grandparents are people of wealth and respect in the community. Grandmother is severe and unyielding. Elizabeth's mother is kind and loving but it is Tatie, the black maid of the household, who is Elizabeth's rock during this time and Tatie's grandson, Charles, becomes Elizabeth's best friend. Read More.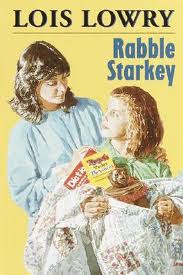 Grades 5 - 9
Rabble Starkey by Lois Lowry. Novel. 208 pages.
Find this book: Local Bookstore, Amazon
, B&N


Rabble (short for Parable Ann) and her young, single mother Sweet Ho have a wonderful relationship even though times are hard. Sweet Ho works for the Bigelows and Rabble and Veronica Bigelow are best friends. Rabble's family is replete with characters and she has so many cousins that she lends some to Veronica for the classroom assignment of constructing a family tree. The characters in Rabble Starkey are memorable and the action believable in this story about love and mental illness. Read More.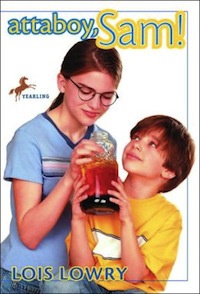 Grades 1 - 6
Attaboy, Sam! by Lois Lowry. Chapter Book. 144 pages.
Find this book: Local Bookstore, Amazon
, B&N


Sam is sincere and, to say the least, inventive. Although readers will think he's hilarious, Sam seldom tries to be funny. He is usually quite serious about his deeds and the reasons for them. Sam's family is warm and loving without being too good to believe. Lowry captures the thoughts, deeds and perceptions of children in many of her books and this series, starring pre-schooler Sam, is no exception. Often older children are not interested in reading about children younger than themselves, but the Sam books are so funny and delightful that they will capture readers of any age. Read More in our Featured Book Teachers Guide with discussion questions, extension activities, related books and links.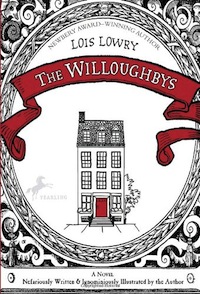 Grades 3 - 6
The Willoughbys by Lois Lowry. Chapter Book. 176 pages.
Find this book: Local Bookstore, Amazon
, B&N


This parody of many classic "orphan" children's stories is full of ironic humor. It makes a great read-aloud for grades 3 through 6. Ignored by their parents, the four children set about trying to become orphans. The humor is zany and sometimes dark.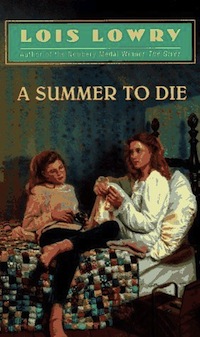 Grades 5 - 8
A Summer To Die by Lois Lowry. Novel. 160 pages.
Find this book: Local Bookstore, Amazon
, B&N


Meg and her sister Molly share a room and constantly fight. However, all is not well with Molly; the bloody noses reach a crisis and she spends a long time in the hospital. When she returns she is not ever really her same self again; she's grouchy and moody or far away and quiet. There is, in this book as in most of Lowry's work, a good deal of humor and of hope as well as a deep understanding of suffering.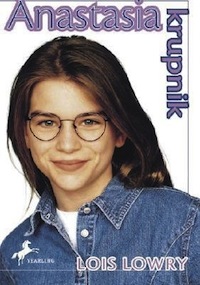 Grades 3 - 6
Anastasia Krupnik by Lois Lowry. Novel. 144 pages.
Find this book: Local Bookstore, Amazon
, B&N


Lowry's series of books about Anastasia Krupnik and her younger brother, Sam, are unlike many series in that she doesn't rely on stock characters; the plots are well conceived and both Anastasia and Sam grow emotionally as well as physically in these often hilariously funny books. If "functional" is the opposite of "dysfunctional," the Krupnik family is functional. They love and usually eventually manage to understand each other even while reacting to the latest misadventure of Sam or Anastasia.

Related Areas on Carol Hurst's Children's Literature Web Site

Related Areas on Other Web Sites
---
Advertisement:
---
---
Advertisement:
---
---
Advertisement:
---