Newsletter, February 2000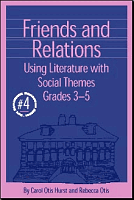 Welcome to the February issue of our newsletter. If you'd like to have each issue delivered to your email address you can sign-up for a subscription.
In This Issue You'll Find:
News
We would like to announce the release of our latest book for teachers, "Friends and Relations: Using Literature with Social Themes Grades 3-5" by Carol Otis Hurst and Rebecca Otis, 2000, Northeast Foundation for Children, ISBN 1892989034. $8.50. Order online (http://store.yahoo.com/nefc/4inresclasse.html) It is the second in our Social Themes series. The first book was for grades K-2. This addresses similar themes in the context of families and friendships for older students. You can find out more by on our website at: http://www.carolhurst.com/products/friends2.html
I (Carol) spent a lovely three days in Milwaukee a couple of weeks ago with the good folks in Wisconsin Reading Association, particularly Bonnie Prohaska, and the members of her technology committee. Thanks, you guys, that was fun..

---
Advertisement:
Free Welcome To Homeschool Guide: Download Here!
---
Time4Learning is a PreK-12th grade
online homeschool curriculum
.
Eager, excited homeschoolers could be just a click away. Start with these Time4Learning freebies:
Time4Writing is a homeschool parent's best friend! Here's why...
---
---
Advertisement:
---
---
Advertisement:
---